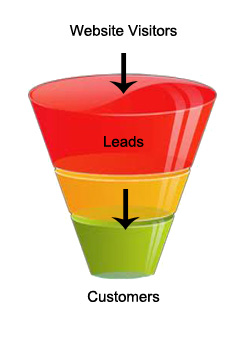 The website is more often than not the first point of contact between a prospect and a company, which means that making a good first impression is very important, and might even make the difference between capturing a lead or losing it.
When a website is intuitively organized to respond to prospect and customer needs it increases the chances of moving that prospect down the pipeline, and as a marketer, this is what you want to do – take the opportunity to capture a lead, nurture it, and eventually transfer it to a sales rep. for the win.
It's very important that you keep in mind one key factor when making this happen: Time. The less time it takes to navigate through all the information and features on your website the better are your chances of capturing a prospect or customers' attention to pursue a further dialogue. The moment that a prospect or client is sitting at his or her desk with a particular problem on their mind is the moment that they are likely to respond to you, so ensuring that you provide them with the right information as they are looking for it becomes a key strategy to lead generation. This strategy is called Information Architecture, in reference to the way your website is organized and how enabling it is for your users to navigate successfully through it while providing the experience of efficiency and speed when finding information and completing tasks. Essentially:
You don't want and should try to avoid wasting a users' time – you'd rather show them you value it!
And the way to do this is by designing a website that combines creative design with the science of usability in order to create an engaging and meaningful experience for your users. When users are navigating through a website with efficiency and speed they notice this and appreciate that you have taken the time to cater to their needs, which results in influencing them to take further action to learn more about what it is that makes your solution so unique.
By extracting insight into a user's online activities and behaviour, or digital body language: the digital clues and footprints a prospect or client leaves behind on a website, with the right knowledge about your visitors you can increase sales, increase user engagement and increase the customer experience. Providing the right information at the moment a prospect is looking for it is a great strategic tool to capture a lead and send it through to the pipeline. When a website is engaging and compelling, when it meets user needs and facilitates effective and efficient navigation, audiences respond. How well is your audience responding? Is your website a lead generation machine?