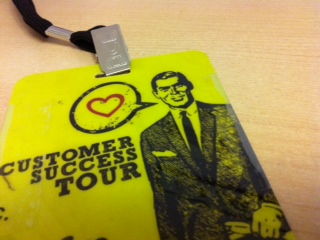 Eloqua Customer Success Tour made its stop yesterday in Toronto. It was definitely a place to "Learn. Network. Share. Be Cool."
In one of the presentation, Paul Teshima, SVP Customer Strategy and Success at Eloqua talked about the significant growth of social media and how it will continue to grow for Marketers in 2012. Teshima also stated there are 3 steps to social media: listen, let go, and learn.
1. Listen: If you're not already listening/monitoring the content your prospects and customer are blogging, tweeting, and posting on Facebook, it's time to start. By listening to the conversations your prospects and customers are having through social media, you'll find relevant conversations where you'll be able to join.
2. Let go: If someone leaves a negative comment about your company or product on twitter, facebook, or blog, don't get too caught up with their comments. Reach out to the person directly and discuss the issue offline. When the conversation is over, just let it go.
3. Learn: Through social media, it's not just about blogging, tweeting, posting on Facebook and your job is done; you have to effectively engage with your prospects and customers. You can follow them on Twitter and retweet relevant content, become a fan of their Facebook page, leave comments that are positive and insightful, and/or promote their content on your blog.
When you're planning your social media strategy, don't forget the 3 steps!