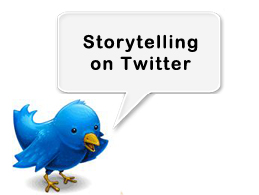 The concept of storytelling on Twitter may seem a bit peculiar to you. However, at last month's SXSW, there were some really interesting ideas that a lot of digital marketing strategists were expressing exactly on this subject. You can review the basics in a previous post– here.
Stories, in themselves are essentially as old as we are, and before the written word, stories were transferred to future generations orally. This is why symbols are so important: they are able to capture a lot of information in a single representation.
The basic component of B2B relations is communication. It is our ability to propose to our audiences a product of value that can somehow improve their life – make it easier. The only way that we can achieve this is if we transfer our knowledge to them in the best way so they can see there is in fact great value in our offer.
In an online environment, where basic face-to-face selling no longer exists (video content as a slight exception), it becomes important to transfer our messages to our prospects in the most comprehensive and clean way. So we have Twitter: Twitter is the few-years-old phenomenon that has taken the world by storm with its ability to communicate with others in a span of 140 character messages in a continual dialogue.
So why Storytelling?
The stories we have been told in childhood by our parents and grandparents are probably stuck in your mind to this day. You probably have your own favorites that differentiate your taste from someone else's. This means these stories have had a great impact on you and probably shape your life to this day, even though you may not realize it.
So let's take on this knowledge, and move it on to Twitter to really get people to start thinking about our products and brands in a certain way.
By constructing a story, holding information about a particular solution offered to one of your clients, or a networking event your team just came from that impacted the way you have changed your business, you can start to really draw up people's imagination and influence the way they think about your product, brand, and their relationship with you.
Stories have a beginning, middle and an end. The endings often vary: Sad, happy, unreconciled, to be continued and others. What if you were to create stories on Twitter that had the happiest endings of all – the exact solutions your prospects are looking for? How do you think they would respond to you then?