eMarketer recently released an article entitled: "Company Website Top Source for B2B Leads" that reveals an interesting data piece that we want to share with you, today:
"According to research from Demandbase, in conjunction with Focus Research, the corporate website was a top source of lead generation for B2B marketers, second only to personal connections and referrals."
If you haven't been convinced yet, as it turns out, corporate websites are the #1 source for lead generation in many B2B environments according to the sources stated above. Before you get discouraged while you digest this data (considering the amount of time you spend on marketing activities outside of performing continuous website tweaks), even though your website may be the most powerful demand gen source, "84% of US B2B marketers felt their ability to generate new sales leads using their website needed moderate to strong improvement."
Even though a web site is a viable source for demand generation, without the ability to properly track and report the kind of KPIs that gain valuable information on prospects, marketers aren't able to effectively convert traffic into sales.
The most apparent problem in this scenario is that marketers can't gauge lead quality and score and segment leads for nurturing programs without properly capturing basic information as it pertains to each website visitor; so while marketers may be scoring high on the demand gen front, without the ability to understand prospect behavior and needs, they can't get leads into the sales cycle.
However, we've said it before and we'll say it again; the most important benchmark for gauging overall website effectiveness is quality – not quantity. The graph below demonstrates that only 34% of marketers use metrics that shed light on lead quality: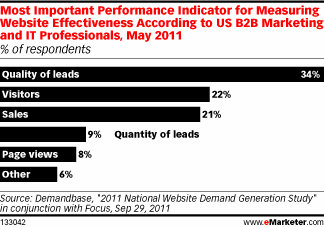 In order to be effective in the process of converting website visitors into prospects and sales, companies have to boost their lead generation programs and create the kind of workflow that will give access to more sophisticated marketing tools which will be used in the process of better understanding visitor behavior. The only way to move from leads of poor quality to those that have a better chance of closing is by working within a sphere of personalization that can only be achieved once important contact information is captured.
For marketers to compose more intuitive messages and segment leads according to needs, websites have to move from being a source of traffic to a source that effectively extracts prospect and consumer behavior and data.
How do your website conversion rates stack up against your website visitor numbers?